Is it spring yet?
I'm not sure what Mother Nature has been drinking or smoking this year, but it's certainly resulted in some fabulously flipped-around weather conditions here in Cape Town. We had summer in the middle of July, and for the last week we've been having winter when we should have been having spring!
Regardless of what the weather's like in your part of the country, September's still a good time to spring-clean your craft cupboard - which is why this month's edition of the Craft Gazette includes an article full of tips for getting organised. We also have a couple of book giveaways for you, as well as our usual round-up of markets and other events.
Brand-new advertising opportunities
Ever since we started the Gazette we've been receiving enquiries from people and companies wanting to advertise in it. Well, the good news is... now you can!
From next month we will be making a number of ad spots available, so if you run a craft shop, sell crafting supplies, give craft classes, produce handmade goods for sale, or organise craft-related events, click here to send us an email requesting our rates card. We're running a few opening specials for next month's Gazette: prominent ad spots will be available from as little as R250!
And to our readers, please be assured that we'll only be accepting ads from relevant craft-related businesses and organisations - in other words, things that we feel will be of interest and value to you. We hate intrusive and irrelevant advertising just as much as you do. ;-)
Have you volunteered for Do It Day?
GreaterGood SA are encouraging South Africans to be part of their Do It Day initiative, which will take place on Friday 18 September all around the country. The idea is to volunteer your time and skills on the day, to support a specific charitable cause of your choice.

We've decided to volunteer to help out at the Chere Botha Centre, which is a school in the Western Cape for children facing challenges such as Downs Syndrome and autism. Read more about the project we've signed up for here, or search the site for something in your area. You can even add your own project if you like.
This is a fantastic opportunity to get involved and make someone's world just a little bit brighter. Go on, you know you want to.
-----------------------------------------------------------------
Organizing A to Z
by Maria Gracia (Get Organized Now!™)
Organizing really can be as easy as A-B-C. Here are 26 organizing ideas - one for each letter of the alphabet:
A: ACT - Don't put it off until later. If you want to do it, act on it now.
B: BREAK IT DOWN - Anything you have to do is easier if you break it down into manageable parts.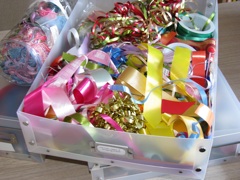 C: CONTAINERIZE - Separate and organize your things by storing them in see-through, plastic containers.
D: DELEGATE - You don't have to do everything yourself. Delegate to work associates or family members. Use an outside company to outsource some of your work. Or use technology to your advantage, by delegating to your answering machine, your computer, etc.
E: ELIMINATE - Get rid of clutter - both physical and mental. You'll breathe easier and feel a sense of freedom.
F: FILE - Don't let that paperwork grow into a mountain. File it away in an appropriate place if you need to refer to it again.
G: GIVE - Give the things you no longer use or love to a favorite charity organization, a family member or a friend. There are many people who will be thrilled to receive your gifts.
H: HOME SWEET HOME - Find a home for everything you own, and keep it in its place. When you need something in the future, you'll know its 'address'.
I: IDENTIFY - Before putting items in boxes for storage - or when you're moving - be sure to identify the contents by labeling the outside of the box. Identify papers in file folders, by clearly marking the tab of the folder.
J: JUDGEMENT - Use your best judgement to prioritize your life. Be sure you're spending the majority of your time on the important stuff.
K: KNOWLEDGE - Knowledge is power. In order to effectively organize something, be sure you're using the organizing systems that will work best for you.
L: LISTS - Make lists for things you have to do now, and in the future. Master Lists and To Do Lists will help you get things done. Packing lists will ensure you never forget something again when you travel. Shopping lists will ensure you get everything you need at the mall. Telephone lists will remind you of everyone you have to call this week.
M: MOTIVATION - A huge part of getting organized is motivation. Once you're motivated, there's no limit as to what you can accomplish. Get motivated by designating pending rewards for your accomplishments, involving family members or friends in your goals, and by making getting organized a game. And definitely stop by the Get Organized Now! Discussion Forum for lots of inspiration and motivation.
N: NO - It's so easy to get stressed when you have a million things to do on your plate. If you're beginning to feel burdened with too much to do, learn to say NO to some of those things.
O: ORDER - Rather than living in clutter and chaos, vow to live a more orderly life. You'll know where everything is, and you'll complete whatever you start.
P: PLAN AND PREPARE - While spontaneity every once in a while is fun and perfectly fine, having a good plan and effectively preparing, will help you reach your goals and deadlines, so you can enjoy maximum accomplishments.
Q: QUALITY, NOT QUANTITY - It is much better to have a few treasures that you love and enjoy, rather than having lots of things you don't particularly care for. Always think quality over quantity, and you'll simplify your life. Of course, this doesn't apply to money!
R: REMINDERS - Use little reminder devices throughout the day to help you stay on track. Alarm clocks, timers, e-mail reminders and sticky notes are all excellent memory joggers.
S: SELL IT - Why not make some money by selling some of those possessions you no longer want? Try a rummage sale, consignment shop or an online auction company.
T: TOSS - If you don't want it, and you can't give it away or sell it, toss it. Make room for the things that you really enjoy, or that make your life easier.
U: UNUSED SPACE - Don't forget about the space in your home or office that is often forgotten about, such as wall space for shelves or hooks for hanging, or space under the stairs.
V: VISUALIZE - Picture how wonderful your life is going to be when you're organized. Then strive to put yourself in that picture every day.
W: WRITE IT DOWN - Don't try to keep everything you have to remember in your head. Simply write it down and refer to it when needed.
X: X MARKS THE SPOT - Place an X next to each item you accomplish on your To Do List. At the end of the day, add up your x's and celebrate for getting so much done!
Y: YOU - Don't forget to make time for YOU. Remember, an appointment with yourself - time for you with no interruptions - should be one of the most important appointments in your day.
Z: ZONE IN - Really define what you're trying to accomplish, so you have a clear picture in your mind.
Want to get organized? Get your FREE Get Organized Now!™ Idea-Pak, filled with tips and ideas to help you organize your home, your office and your life, at the Get Organized Now!™ Web site.

-----------------------------------------------------------------
Win with Red Balloon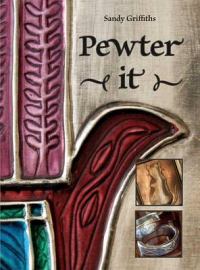 This month, two lucky crafters will each win a copy of Pewter It, courtesy of Metz Press. If you are a magpie at heart, and shiny objects get your pulse racing and your eyes gleaming, this is the book for you!
In Pewter It, Sandy Griffiths introduces crafters to the art of metalwork, with a variety of projects aimed at varying skill levels. While metalwork might bring to mind images of welders and soldering irons, this book teaches you how to work with pewter, a soft and malleable metal that can be used to embellish everyday items or crafted into striking pieces of jewellery.
To stand a chance of winning a copy of Pewter It, you'll need to read our review of the book and then answer one easy question. Entries close on 30 September 2009, and winners will be contacted by email and announced in the next Gazette.
Visit the Competitions section to see all our current competitions.
Congratulations to Beverley van Wyk, who won a set of two Eazy Stitch patterns in our July competition. Happy stitching, Beverley!
-----------------------------------------------------------------
What's on
An important note for craft market organisers, craft teachers, and anyone else involved in the running of craft-related events:
Please add your classes, markets, fairs, exhibitions, club meetings and crafting conventions to the Red Balloon Events Calendar. We would love to promote your events in the Gazette and on our homepage, but we can only do that if we know about them!
Somerset West Country Craft Market (Western Cape)
The Somerset West Country Craft Market at Southey's Vines is one of the oldest and, without a doubt, one of the most popular markets in the Western Cape. The market will be starting up again on 26 September, following their short winter break.
Click here for more information.


CY Market (Western Cape)
From 30 September to 4 October 2009, six old cottages on the Alba Guest Farm in Durbanville will be transformed into a colourful and creative marketplace, featuring decor, crafts, food, antiques and more. Here are the details:

Although there is no space left for crafters wanting to sell their goods, the market will be running again next year, so if you're a crafter, we suggest that you go along and see whether this is something you'd like to get involved in.

Arts and Crafts at the Bokkie Park (Gauteng)
On the first Saturday of every month, the Bokkie Park in Boksburg is the setting for a delightful, family-friendly market, featuring around 100 craft stalls, a tranquil tea garden, and fun farmyard activities for the kids. The next market at the Bokkie Park takes place on Saturday 3 October.
Find out more about the market here.


SA Scrapbook Convention (Western Cape and Gauteng)
Two days filled with inspiring and creative scrapbooking sessions, a tempting selection of products available for purchase, sessions with international teachers, gift bags, buffet lunches... what more could a scrapbook enthusiast want?
Gauteng: 26 and 27 September, at Emperor's Palace
Western Cape: 2 and 3 October, at Spier Wine Estate
Spots are limited at both venues, so don't waste any time if you'd like to be a part of this fabulous event.
Visit the SA Scrapbook Convention website for all the event details and booking information.

-----------------------------------------------------------------
Can you help?
Anette is trying to find shelf space to rent in a crafters' shop somewhere in Pretoria. Do you run a crafters' shop in the area, or can you suggest one she could try?

Sandra has some old Your Family magazines from 1975, 1979, and 1985 to 1991. They are in good condition and all the pull-out patterns are still intact. No recipes have been cut out. If anyone is interested in purchasing these magazines from her, please contact her directly at ssw@telkomsa.net.

Fiona would like to know where she can purchase Pergamano tools and parchment paper in the Johannesburg area.
If you can help with any of these requests, please email us at info@redballoon.co.za, and we will pass the information on. You can send any requests of your own to the same email address.
-----------------------------------------------------------------
On the bookshelf
Smart Art by Monique Day-Wilde and Angie Franke
Following in the footsteps of its predecessor, Quick Art, this book presents aspiring artists with a range of amazing yet deceptively simple projects to complete and enjoy. With the focus on using more eclectic materials, the book aims at inspiring the budding artist in you to new and greater levels of creativity.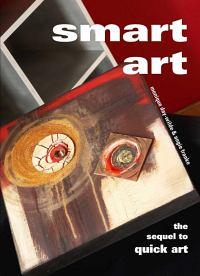 With an in-depth analysis of both tools and materials, and excellent step-by-step photographic instructions, Smart Art shows aspiring artists of all skill levels that creating eye-catching, personalised artwork is fully within their grasp. The section on materials is broken down into useful tables that lay out the nature of each material, its pros and cons, and helpful tips regarding its usage. The book is also divided into two sections: one encompassing a range of projects for you to hone your skills on, and another bursting with ideas for you to try out.
Monique and Angie's personalised tone throughout the book makes you feel as though you have your own instructor there with you as you attempt each project. Their love of art, and passion for sharing it with others, is fully present throughout the book, making it a must-have for those of you who are dying to get creative!
Reviewed by Lauren Inggs
We've got two copies of Smart Art to give away. Click here to enter.
Find more book reviews in the Craft Compendium, and get more info on this title here.
-----------------------------------------------------------------
Opportunities for crafters
Get more info on these and other places to sell your crafts, in the Craft Outlets section of the Red Balloon Craft Junction.
Tato Tots Open Day (KwaZulu-Natal)
These open days are held once a term in the garden of a beautiful home in Durban North. The next event, planned for November, will be a special bumper Christmas event.
Cost: R60 per table, including table and chair
Click here for more information and to contact the organisers.

Riviersonderend NG Kerk Christmas Market
Dates: 19-21 November 2009
Application closing date: 30 September 2009
Cost: R20 admin fee for 1m by 1m, plus 15% commission on sales
Click here for more information and contact details.
That's all for this edition. Have a super-springy September, and don't forget to add your markets and classes to the Red Balloon Events Calendar!

Till next month,
Kerry-Anne