Happy holidays!
Seems everyone is in desperate need of a holiday this year, doesn't it? No matter who I speak to, I get the feeling that the second half of 2010 has been demanding, fast-paced, and just plain exhausting. We're taking a break this year too: our offices will be closed from the 23rd of December until the 5th of January.
Of course, the tricky part of working from home (as all our staff do) is that you never REALLY get to leave work. So for the first time in many years, I'm seriously considering switching on my out-of-office reply on the afternoon of the 22nd and absolutely ignoring anything that looks like work until the morning of the 5th. Bets are now open on how long this arrangement will last. :-)
Whether you celebrate Christmas or not, and whether you're staying at home or heading off on a summer holiday, I wish you the happiest of times, filled with laughter. Make a point of starting each day with a smile, and whatever you do, don't let the little things stress you out.
-----------------------------------------------------------------
Inspirational craft ideas for your Christmas gifts, decorations and wrapping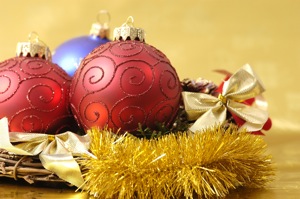 Our round-up of Christmas craft ideas was so popular last December that we've decided to do it again this year, with an assortment of Christmassy ideas from around the web. So haul out all your unused craft supplies, and get busy!
Designer gift wrapping, made by you
We're boycotting the same old, shop-bought wrapping paper and ribbon this year. Join us, and make your own (far prettier) wrapping from things like brown paper, ribbons, fabric or even repurposed sheet music instead. Here are 13 themed ideas to get you started.
Cute cookie cutter floating candles
For far less than you'd buy them for, here's how to make your own floating candles using play dough, candle wax and cookie cutters in a variety of shapes and sizes. What a lovely, inexpensive way to decorate your home over Christmas!
Glitzy pinecone ornaments
Probably still one of the cheapest, easiest, most festive and time-honoured Christmas decorations, here's how to glitz up all those pinecones lying around, with just paint and coloured ribbon.
Peanut butter doggy treats
Don't forget about the dogs this Christmas – they too deserve a treat or two. Here's a recipe for yummy peanut butter biscuits. And if you make them in big batches, they'll keep for weeks after Christmas in an airtight container.
Butterfly hair comb
A perfect gift idea for a girlfriend, niece or daughter, here's how to make a pretty butterfly hair accessory from inexpensive materials. We suggest going all out in festive golds, greens and reds.
Versatile CD-and-fudge gift pack
This is a great gift idea for anyone, really. This tip shows you how to make a gift pack containing home-made fudge (in various flavours) and a CD of your favourite Christmas tunes. Cute, downloadable CD covers are also there for the taking to print out and use.
Box topiaries good enough for gifts
Now, here's a novel idea with more than one use: while hand-made box topiaries could be part of the packaging, ones as gorgeous as these are good enough to use as gifts themselves.
Cookie mix in a jar
Something that'll lure even the most stubborn baker into the kitchen is pre-mixed, flop-proof cookie mix. Great as Christmas gifts for friends – or children, even – chocolate chip cookie mix in a beautifully decorated jar will, if anything, guarantee you an invitation to tea.
Vintage-style tile coasters
Looking for a way to get rid of those old, dated tiles? Even if you're not, smallish ceramic tiles are fairly inexpensive, and make for funky coasters in no time at all. To start you off, here's how to make vintage-look coasters using bits and pieces from around the house.
Cupboard door tea trays
Well, this is definitely not something we'd have come up with on our own. What a superb way of making a beautiful tea tray out of an old, salvaged cupboard door - complete with cupboard door handles for tray handles.
Christmas lights in a potpourri jar
Potpourri is great; we all love it, but it soon loses its scent as time goes by. Laying Christmas lights between the leaves in the jars is a nifty trick, as the heat activates the aroma. Plus, the lit-up jars make for really pretty decorations.
-----------------------------------------------------------------
What's on
Get more info on these and other events on the Red Balloon Events Calendar.
-----------------------------------------------------------------
Become an Eazy Stitch Kidz educator
Due to the success of the Eazy Stitch Kidz handcraft programme in the Western Cape, Eazy Stitch Kidz will be expanding to the North-West Province and Gauteng in 2011. First, though, they need new licensed Eazy Stitch Kidz educators. Are you interested?
The programme is currently being presented as a private extra-mural activity at 20 schools around the Western Cape. It teaches knitting, crocheting, plait work, embroidery, tie-dyeing and lots more. Two courses are taught for beginner (grade 1 – 3) and intermediate (grade 4 – 7) learners on a weekly basis for an hour at a time. Not only do the courses stimulate learners' fine motor skills; they also awaken entrepreneurial skills – all items made are easily sold at craft markets.

A small capital investment is required initially, but you'll soon be earning an income and can even generate extra income by hosting workshops, craft clubs and birthday parties.
If you're a hands-on artist or crafter interested in becoming an educator for Eazy Stitch Kidz, please visit www.eazystitch.co.za and download the Licensed Educator form to receive more information. Alternatively, contact Hesmari van Toorn on 083 629 2929 or at eazystitch@absamail.co.za.
-----------------------------------------------------------------
On the bookshelf
Knitted Beaded Jewellery by Ruth Herring
Reviewed by Cara Visser
Just in time for Christmas, Knitted Beaded Jewellery offers you a creative way of making really special, one-of-a-kind gifts for your nearest and dearest. Combine your knitting and beading skills to make the daintiest jewellery and accessories out of wools and cottons; or be a little adventurous and try working with wire or leather.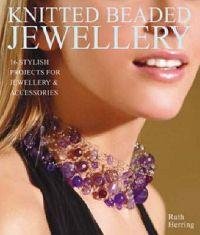 The book is divided into four sections starting with basic, beginner projects using beads and simple techniques. The projects in the sections that follow increase in difficulty – I recommend starting with one of the easier projects, like a ring or two, to get your creative juices flowing.
All in all, there are a choice of 14 different designs from which to make earrings, necklaces, chokers, wrist- and anklebands, hairbands, rings and even handbags. It really is up to you how creative you'd like to be, as the designs are versatile enough to embellish with as many beads, sequins and sparkly bits as you like. If you're brave enough, you could even adapt the techniques to make gorgeous Christmas tree decorations.
As someone who is fairly crafty but inexperienced in this area, I was impressed by the detailed instructions, skill level indicator, tips and step-by-step photos and captions for each project. I also found the introductory Materials and Equipment and Techniques sections to be very useful. There, the author starts from scratch by teaching you all about different types of beads, equipment, measurements, abbreviations and techniques; right down to holding the needles, how to thread wire and how to finish off your projects – very useful to page back to as you get going.
Get more info on this title here.
Find more book reviews in the Craft Compendium.
-----------------------------------------------------------------
That's all for this edition. Have a delightful festive season, and we'll see you again next year!

Till next month,
Kerry-Anne