So long, 2009
It's been a really exciting year for us here at the Red Balloon Craft Junction - challenging in some ways, but incredibly rewarding at the same time. We're looking forward to 2010 with a huge helping of enthusiasm, because not only do we have some very exciting ideas up our collective sleeve, but our team is also going to be expanding yet again in February. Good times indeed.
Thank you for your support
As we head into 2010, there are a few thank-yous and virtual bouquets that need to be dished out.
Firstly, thank you to our prize sponsors and advertisers - and here I must single out our book sponsor, Metz Press, who are always willing to offer a book or two for one of our competitions. They just keep bringing out success after success - I don't think they've ever published a title that was anything less than utterly beautiful, captivating and inspiring.
A big thank you also goes to my team: Guinivea, who not only answers all your queries, but also compiles most of the information for the Gazette each month, ensures that we have fresh content on the site, and makes sure that the Gazette actually gets sent out; and Lauren, our intrepid and super-efficient book reviewer, who probably now knows more about crafts than the rest of us all put together. I'm sure you both know I couldn't do this without your help. ;-)
Finally, thanks to every one of you for making what we do here worthwhile. You probably have no idea how much it means to us each time we receive an email telling us how useful you've found the Red Balloon Craft Junction to be, or how much you enjoy reading the Gazette each month. And on that note: look out for some big improvements in the new year - we think you're going to love what we've got planned.
-----------------------------------------------------------------
Have yourself a merry make-it-yourself Christmas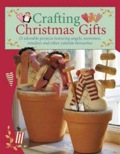 This month Guinivea trawled the web in search of crafty Christmas ideas, and, instead of our usual article, she's put together a round-up of some of the ideas and projects she found.
1. Five easy do-it-yourself gifts
A short selection of great (and really simple!) homemade gift ideas, from a personalised cookbook to a spa gift basket - this might be just what you need to jog your imagination. Visit the site.
2. Gifts in glass jars
This article features thirteen ideas for filling decorative glass jars, from chocolate-dipped pretzels to bath beads. Some of these would make perfect hostess gifts as well. Get some ideas.
3. Grown-up DIY gifts
A selection of videos showing you how to make everything from handmade paper to a hand-bound book. Time estimates are included, which is handy if you need to secretly create something while the rest of the family is out shopping! Have a look.
4. Bath salts and hot chocolate
Fill jars or tins with homemade bath salts or your favourite hot chocolate mix, and then label them using the beautiful full-colour templates provided in this article. Check out the templates.
5. Stack of biscuits
Follow the instructions to put together a pretty stack of your own homemade biscuits, and then add one of the cute cookie tags (printable provided) to complete the gift. See the biscuit stacks.
6. An angel for your tree
An adorable little beaded angel, made with ordinary safety pins, to hang on your tree or incorporate into your table setting. Bead an angel.
7. Knitted Christmas trees
Use up all your tiny scraps of wool, and make these unusual decorations - hang them on the tree, or use them to embellish your wrapped gifts. Get knitting.
8. Victorian Christmas crackers
Easy to make, unique, and with far better trinkets inside than the shop-bought ones... make your own set of Christmas crackers using paper serviettes and doilies. Get the cracker pattern.
-----------------------------------------------------------------
Win with Red Balloon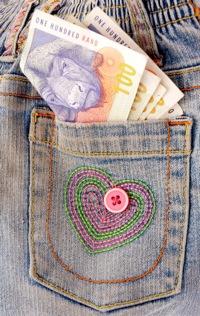 This month we've decided to let you choose your own prize. One lucky reader will be receiving a R200 kalahari.net e-voucher in their inbox, to spend exactly as they please. You can buy books, craft supplies, music, movies, or anything else you like - it's entirely up to you.
Click here to enter.
Congratulations to Trudi Rossouw from Bellville and Udo Boesenberg from Pretoria, who each won a copy of Smart Art in our October competition, courtesy of our loyal sponsors, the fabulous Metz Press.
-----------------------------------------------------------------
What's on
Don't forget that you can add your crafting events to the Red Balloon Events Calendar for free!
Muizenberg Christmas Sale (Western Cape)
Products on sale will range from jewellery to ceramics, all created by exceptionally talented crafters. Apparently there will even be free champagne!
Date: Saturday 12 December
Trading hours: 9am - 4pm
Venue: 24 Dartmouth Road, Muizenberg


The Hearth Fair (Western Cape)
A night market in beautiful surroundings, with stalls selling décor, art, fashion, crafts, jewellery and kids' goods.
Date: Friday 11 December
Trading hours: 6pm - 11pm
Venue: Oude Libertas, Stellenbosch
Visit thehearthfair.co.za for more information.


Rondebosch Craft in the Park (Western Cape)
Go along and enjoy breakfast or lunch under the trees, and stop for a chat with the cheerful and chatty Rondebosch crafters. There will also be a special night market on the 23rd of December, from 3pm to 8.30pm.
Saturday dates: 12, 16 and 19 December
Saturday trading hours: 9am - 2pm
Venue: Rondebosch Park, on the corner of Campground and Sandown Roads, Rondebosch


Country Craft Market (Western Cape)
There'll be a few extra markets in Somerset West this December. The next market, on Saturday 12 December, will feature a basket beading demo by Nomatemba Mditshwa; there will still be two more markets before Christmas - one on the 16th, which is a public holiday, and one on Saturday the 19th.
Dates in December: 12, 16 and 19 December
Venue: Southey's Vines, 186 Main Road, Somerset West
Trading hours: 8am - 1pm
Click here for more information.

The Pure Boland Christmas Market and Night Run (Western Cape)
Plenty of craft stalls, a brass band, a steak braai, wine - what more could you want? Book your tickets for the steak braai by calling Tharina on 082 301 8561 or Berna on 076 480 9920.
Date: Tuesday 15 December
Venue: Groenstoor, Brandwacht, Worcester
Trading hours: 6pm - 11pm


Gonubie Christmas Fair (Eastern Cape)
There will be a range of stalls, as well as a few fun family activities like sack racing, egg-and-spoon races and a treasure hunt.
Date: 18 - 20 December
Venue: Gonubie Sports Field
Contact: Marcine Cooper - 083 789 8094


South Coast Christmas Market (KwaZulu-Natal)
This is the first ever Christmas market along the Hibiscus coast.
Dates: 14 - 23 December
Venue: Uvongo Town Hall
Contact: Elmarie - 083 750 8447 or info@southcoastchristmasmarket.co.za
Click here for more information.

Rosemary Hill Farm Market (Gauteng)
An organic market, featuring good quality foods, arts and crafts, and activities for children, in a beautiful farm environment.
Date: 13 December
Venue: 257 Mooiplaats, Kungwini (20 minutes from Menlyn)
Click here for more information.
-----------------------------------------------------------------
Can you help?
Cashandra would like to start a craft market in Limpopo. She is on the lookout for a venue and crafters. Anyone who is interested or who would like to get involved in any way, please contact her directly at cashandra_j@vodamail.co.za
If you have any requests of your own, please email them to info@redballoon.co.za, and we will do our best to help you.
-----------------------------------------------------------------
On the bookshelf
Knots for Beaded Jewellery by Susan Millodot
The third book by Susan Millodot, following Chinese Knots for Beaded Jewellery and Celtic Knots for Beaded Jewellery, this book once again encompasses the passion of jewellery crafting with the intricacies of knot work in a range of projects to delight those who love to make their own jewellery.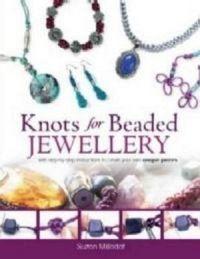 The book offers crafters helpful sections on the various types of knots used in knot work, as well as the tools needed to attempt the projects, and the types of cord used in each. There is even a section on how to dye your own cord, for those adventurous enough to try it by following the instructions given in a simple step-by-step format. The projects in the book are amazing, and when finished would make eye-catching additions to anyone's jewellery collection. The photographic instructions accompanying each project are fantastic, and leave no doubt as to how to complete the step being taught. This book makes knot work possible for a very beginner crafter, and with a little patience the knot work becomes quite addictive!
An amazing book with beautiful projects in it, and a definite must-have for crafters wanting to learn something different and unique.
Reviewed by Lauren Inggs
Get more info on this Metz Press title here.
Simply Fabulous Fabric by Monique Day-Wilde and Angie Franke
Simply Fabulous Fabric offers lovers of textile art the opportunity to learn over seventy-five different techniques to inspire them when they craft with various fabrics. These techniques are taught in sections throughout the book, and include dying, stamping, printing and painting. The book opens with an interesting section on how crafters can record their inspirations in a journal, and use the journal when they begin to craft a project. This section is followed by a section on various types of fabric, and how to protect and care for them, and the tools needed for each project.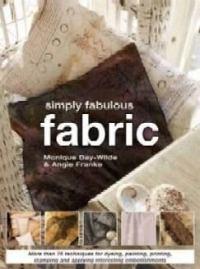 The projects in the book are wonderful, but what is really striking are the colours of the various projects in the book. Each project is more vivid and striking than the last, and it is impossible to not feel inspired to create when looking at them. The section on the various types of shibori (tie-dying) was fantastic, and is hardly the only section of the book offering new and exciting ways to try working with textiles.
A joy to look at and bound to inspire many crafters to new heights in their textile art.
Reviewed by Lauren Inggs
Get more info on this Metz Press title here.
Find more book reviews in the Craft Compendium.
That's all for this edition. Have a safe, relaxing and enjoyable festive season, and we'll see you next year.

Till then,
Kerry-Anne