Brrrrrrr...
I don't know about you, but I have a blanket wrapped around me, my hot water bottle is in the microwave, the heater is on, and the cats have become decidedly loving - all sure signs of winter's arrival. It's knitting season too, of course... and I promise I'll pick up my needles again just as soon as my fingers have thawed!
This month we've got some info on a great craft-related business opportunity, a book review with a difference, and details of a range of events, classes and markets. First up though, we're asking for a little favour from our Cape Town readers.
Capetonians: can you help us, please?
We're looking into the possibility of starting a vibrant new craft market at a fantastic venue in Cape Town's northern suburbs. If you're a crafter or supplier based in Cape Town, would you help us out by spending just five minutes responding to this poll?
Any crafters in Bloemfontein?
I'm going to be in Bloemfontein for the Confederations Cup from next week, and would love to take the opportunity to visit any markets in the area, or have coffee with a couple of craft teachers or crafters, or perhaps even pop in at a craft club meeting. If you have any suggestions for me, or if you're keen to meet up for a cup of coffee and a chat, please email me and let's see if we can make it happen.
-----------------------------------------------------------------
Introducing Eazy Stitch Kidz: a business opportunity and all-round great idea
Eazy Stitch Kidz is an extra-mural programme for school-children, that aims to instil in them a love for handcraft from a young age. The kind of projects that form part of the programme include French knitting, knitting, plaiting, embroidery, tapestry, crochet, beading, needlework, scoobee wire and fabric painting.

Hesmari van Toorn, the owner of Eazy Stitch Kidz, emailed us and mentioned that she was looking for people who would be keen to join the business and run the Eazy Stitch Kidz programme at schools in their area. We asked her for a little more information about the benefits of the programme, and here's what she told us:
Advantages for the child
Enhancement of sustained attention and discernment

Development of fine-motor skills

Development of hand/eye co-ordination

Improved tactile sensation

The opportunity to practice problem-solving skills

Master a wide variety of craft techniques in one year

Encourages social development and group interaction

Development of creative life skills for future entrepreneurs

Learner takes all completed items home
Advantages for the parent
Through the programme, children can learn skills that many parents do not have the time, know-how or patience to teach. Sessions take place at the school premises directly after school, so children don't need to be transported elsewhere. The cost of the programme is just R350.00 per term, which includes all materials.
Advantages for the Licensed Educator
For a small capital investment, you can acquire a business that has already been tested and proven itself successful, and that offers a registered brand and professional support network. Comprehensive training and support is provided, as well as assistance with buying materials at wholesale prices. By renting a classroom at your local primary school, you'll be supporting the school financially as well, so they will be happy to have you.
The format of the programme
The programme consists of 3 courses: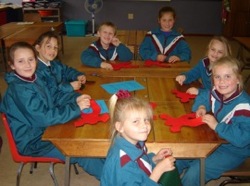 Beginners (Gr. 1-3) - Year 1: Modules 1-4

Intermediate (Gr. 4 and older) - Year 2: Modules 5-8

Senior (Gr. 6 and older) - Year 3: Modules 9-12
Each course is run over a period of one year (30 classes).
Start your own business
If this short introduction has tickled your fancy, and you'd like to find out more about owning your own Eazy Stitch Kidz business, contact Hesmari van Toorn at 083 629 2929 or eazystitch@absamail.co.za, or visit the Eazy Stitch website.
-----------------------------------------------------------------
What's on
If you are giving a craft class, running a craft market or organising any other crafting event, please remember to add it to the Red Balloon Events Calendar so that we can share it with everyone.
Pottery classes (Gauteng)
Dates: Monday nights in June (6pm - 9pm)
Venue: Corner of 9th Street and 9th Avenue, Maraisburg, Roodepoort
Visit the Events Calendar for more information and contact details.


Art classes presented by Silk Art (Western Cape)
Silk Art offers art classes in Durbanville on Saturday afternoons, Wednesday evenings and Monday mornings. Topics covered in the programme include drawing technique, shadows and contours, landscape painting, mixed media, and faces and hands.
Venue: 12 Van der Byl Street, Durbanville
Class fee: R80 per class, payable monthly
Click here for more information.


Night Market in Wilderness (Garden Route)
If you happen to be somewhere along the Garden Route on a Friday night, make your way to Milkwood Village in Wilderness - their night market has over 40 stalls, as well as live music.
Dates: Every Friday
Trading hours: 4pm - 9pm
Contact Tanya on 082 464 8202 for more information.

-----------------------------------------------------------------
Can you help?
Myrna is interested in joining a craft club in the Durbanville area, where crafters get together and share their knowledge by teaching each other their craft. If anyone knows of a club like this please send us the details!

Eddie is looking for someone who would like to run a craft market on a permanent basis, in Pretoria East. He owns a perfectly situated property, with suitable infrastructure for a craft market - covered and outdoor paved areas are available. Terms are very negotiable. If you're keen to take up the challenge, contact Eddie on 082 455 9705 or 012 480 0088.

Brenda is looking for Pergamano materials and tools in the Pinetown/Hillcrest area. If you know where she can purchase these items, please let us know and we will pass the information on to her.

Thulani works for local government in KZN, and her work involves a lot of craftwork and crafters. She would really appreciate it if anyone could help her with information or advice about marketing craft products in KZN; she is also looking for people or organisations that could train her crafters on topics such as design, quality and pricing. If you can help in any way, please send us an email and we'll put you in touch with Thulani.
If you can help with any of these requests, please email us at info@redballoon.co.za, and we will pass the information on. You can send any requests of your own to the same email address.
-----------------------------------------------------------------
On the bookshelf
Around the world in 80 trades by Conor Woodman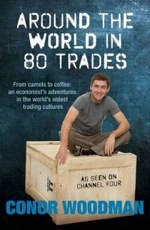 Thanks to Barbara Spaanderman of Green Chameleon Designs for providing this month's book review. This one is a little different to the books we usually review, but it certainly has relevance for those of you making a living from your crafting business. Here's what Barbara had to say about it:
"Occasionally you find a book that is so readable that it seems a shame when it ends. But like a good meal the pleasure lies in the quality, not the quantity.
Conor Woodman, a young economist, found himself having to lay off 400 workers in the north of England for an American company restructuring its assets. It made him look at things a little differently: loyalty was not rewarded with this economic review. He thought it would be an almighty challenge to sell up everything including his house, and with the money in his pocket embark on a trip around the world to buy and sell products along the old trading routes. At the same time, the challenge would be to double his investment.
His trial run for the project was in Morocco where he bought and sold a carpet. So began his journey. He tries buying and selling camels, which ends disastrously. He buys coffee beans and sells them in Johannesburg (a place he does not rate as having a great coffee culture) and Cape Town, where he discovers the ritual of how coffee is tested and tasted. Still in the Cape, he buys wine that he sends off to China for another trade. Here too, he enjoys the culture of wine tasting. It follows of course that in China tea also has its tasting rituals.
He finds out what it is like to catch fish for a living and ends up with a newfound respect for the fish he eats and for the hard work fishermen put in for a variable income – if at all.
His story reads like an adventure (which it surely was) but you only get a tiny sense of the amount of work he put into every deal: many hours on the Internet and many hours building up contacts via e-mail. All the paperwork is essential but because that aspect of business is boring to the reader he does not let it impede the flow of his tale.
Studying world economics at the coalface, so to speak, brings about a few important realisations. It is better to sell coal to Newcastle and ice to Eskimoes than any other product. Selling to people is easier if you sell them what they want. He studies his target market; for example, partygoers in Brazil - he sells them tequila from Mexico. To the Mexican holiday revellers he sells surfboards, manufactured, branded with a logo he has designed, and marketed by making use of testimonial: finding a well-known surfer dude to endorse his product.
These days a variety of products come with a health warning. This story has its own warning: This book's "purpose is to entertain. It does not advocate or recommend any particular course of financial dealing..." Yet, does his story hold any relevance for crafters? I would say yes, even if only in establishing that you need a good product, reasonably priced (he quickly discovers that greed affects his ability to sell), and a well-chosen target market."
Get more info on this title here. This book is also available as an audio CD.
Find more book reviews in the Craft Compendium.
-----------------------------------------------------------------
Opportunities for crafters
Get more info on these and other places to sell your crafts, in the Craft Outlets section of the Red Balloon Craft Junction.
Mosaic Inspirations, an exhibition of mosaic art (Gauteng)
Mosaic artists are invited to exhibit their work at the first Mosaic Inspirations exhibition. Entries of all levels are welcome, for sale or display.
Dates: 5 to 26 September 2009
Venue: 107 Siersteen Street, Silvertondale, Pretoria
Closing date: 17 August
Call 012 804 7392 or visit www.mosaicarts.co.za for more information.

South African Handmade Collection 2009 (Gauteng)
The 'South African Handmade Collection' (SAHC) is a dti initiative that profiles and brands the craft sector. The main objective of the South African Handmade Collection is to provide enterprises, from start-up to export-ready, with an opportunity to interact with both the trade and consumer markets. A secondary objective is to provide a networking opportunity with stakeholders.
What does the SAHC offer you?
- The opportunity to showcase your products in a professional environment
- Added value through their exclusive PR campaign
- Your company details listed in the exhibition directory, which is kept by local and international visitors
- An opportunity to be selected by the Department of Trade and Industry to exhibit internationally
- Additional exposure by listing your company profile and pictures of your products on the SAHC website
- An opportunity to market your products to international buyers from countries such as France, Tokyo, Germany and Australia
- The opportunity to network with high profile interior designers from the Decorex expo
Dates: 6 to 10 August 2009
Venue: Co-located with Decorex Johannesburg, Hall 4, Gallagher Estate, Midrand
Times: 10am – 6pm daily
Applications: Email Princess at princess@tepg.co.za or call 011 549 8300.
Get more information on the Red Balloon Events Calendar.

Marvellous Mystery Market (Western Cape)
If you'd be interested in selling your crafts at a vibey new craft market in the northern suburbs, then please don't forget to respond to our five-minute poll!
Address: An attractive and popular venue
Dates: Sundays, Wednesdays, who knows...?

That's all for this edition. Try to keep warm, and remember to check the Events Calendar at the Red Balloon Craft Junction to see what's on in your area.

Till next month,
Kerry-Anne