Volume 2/2009
In This Edition:
----------------------
If you have received this newsletter from a friend,
click here to subscribe, or send a blank e-mail to craft-gazette@aweber.com.
No email addresses on this list will ever be sold or given away for any reason whatsoever.
To change your details or to unsubscribe,
please click on the link at the bottom of this email.
----------------------
The Red Balloon Craft Gazette is sent out free of charge, and we are therefore dependent on advertising revenue and income from affiliate links to keep this newsletter going - so please support our sponsors and use the links provided in this newsletter should you wish to purchase their products!
----------------------
Crafters, suppliers, teachers and shop owners:
We offer several affordable - and several free - options for advertisers wanting to reach a highly-targeted market of dedicated crafters.
Please click here or contact us at info@redballoon.co.za for more information.
----------------------
Thank you, friends
Thanks so much for all the fantastic emails we received after the last edition of the Gazette. You're a lovely bunch of people, you know that? ;-) And I suspect a few of you must have forwarded the Gazette to your friends and family too, because we've had quite a lot of new subscribers joining us in the last month - so thank you for that, and a big welcome to all our new readers!
Website news
We're busy cleaning up all the information on the website at the moment (quite a process, I can tell you!), so that you'll be able to find what you're looking for more easily, and so that we don't keep a whole lot of markets that are no longer running and shops that have gone out of business listed. And once we're done with that, we're going to start investigating some very exciting new ideas and technologies that we think you're going to love.
A request
If you're a crafter, supplier, teacher, shop owner or market organiser whose business is listed on the Red Balloon Craft Junction, could you do the following for us as soon as possible, please?
If you are no longer running this business or market, please let us know by emailing info@redballoon.co.za, so that we can remove your details from the site.

If you are still in business, and have not yet registered on the site, please register by clicking on the "Sign up" link in the top right-hand corner of the homepage.

Once you are registered, email us your username together with the name of your listing(s), so that we can transfer it to your profile.

If you are registered and are already able to edit your own listing(s), then you don't need to do anything... except keep updating it with your latest information and news, of course!
We would like to get everyone moved over to the new system, which will give you complete control of your listing and allow you to update it as often as you like. Thanks in advance for your co-operation!
-----------------------------------------------------------------
Teabag folding: from Holland to the Helderberg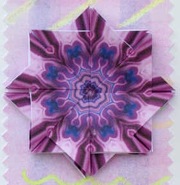 I've always been rather intrigued by the name "teabag folding", because, well, I think it's fairly obvious: How on earth do you fold a teabag?! And I know I'm not the only person to have wondered about this oddly named craft, because I've had friends ask me about it too. In fact, there are probably a few of you who are reading this right now asking yourselves, "What on earth is teabag folding?" And of course, I'm going to tell you.
It has nothing to do with teabags
Well, that's not strictly true. It has nothing to do with teabags here in South Africa, because our teabags are mostly supplied in boring old foil packages. In Holland, however, teabags are supplied in pretty colourful paper wrappers. And one day, as Tiny van der Plas, a Dutch origami artist, sat drinking her tea, she started folding these colourful papers into symmetrical designs. Aaaah, I hear you say, now I get it.
And then what you do with them?
These beautifully folded pictures can be displayed as tiny artworks in their own right, or can be used to embellish greetings cards, book covers, scrapbooks and a host of other things.
Quick facts
Teabag folding is also known as Miniature Kaleidoscopic Origami.

Unlike with traditional origami, the emphasis here is on creating symmetrical designs, not swans and elephants.

The paper you use should be a perfect square.

The only other equipment you need is a pair of scissors and some glue.

The first fold you are likely to learn is called the Standard Kite Fold - and the good news is that you probably already learnt it way back in kindergarten...

Apparently Maths teachers find the designs used in teabag folding rather useful to demonstrate some of the basic properties of symmetry!

You can buy Tiny van der Plas's book Tea Bag Folding: Designs and Techniques on Kalahari.net - it's currently on special for R122.36.
Introducing Laurette van der Merwe
Laurette is an unbelievably prolific (and multi-talented) crafter, who hails from Somerset West in the Western Cape. She calls herself a freeform fibre artist, a name used by those who employ techniques such as crocheting, knitting and embroidery to produce works of art. She is also something of a teabag folding expert, and has used her design skills to produce her own version of the Dutch teabag wrappers, which she now uses herself and sells to other crafters.
See Laurette in action
If you pay a visit to Laurette's stall at the Country Craft Market in Somerset West on 30 May, you will be treated to a colourful and exceptional display of craft at its best. Laurette will be doing a teabag folding demonstration, as well as explaining all her other craft works - which are absolutely exquisite, I assure you. You can read a little more about Laurette and see some gorgeous photos of her craft pieces on the Country Craft Market site. (Just a note: you might see that the date given on the website is 25 April; however, that demo was rained out, so Laurette will be doing her demo on 30 May instead. Her stall number is 166.)
-----------------------------------------------------------------
What's on
If you are giving a craft class, running a craft market or organising any other crafting event, please remember to add it to the Red Balloon Events Calendar so that we can share it with everyone.
Bottle Crafting Workshops (Gauteng)
I've done this workshop before, and I can tell you that it's a whole lot of fun. In the first part of the class, you will learn about the basic scoreline, the separation process, sanding and polishing, and the glueing of your completed glass project. The second part involves the decoration of a table lantern using etching gel, to give that "sandblasted" effect. The cost of the workshop is R250. Choose one of these four workshops:
Randburg workshop: Saturday 23 May, 9am - 12pm, at Home Creation, 40 North Road, Linden Ext. Randburg
Kensington workshop: Saturday 23 May, 2pm - 5pm, at 35 Panther Street, Kensington (near Eastgate Shopping Centre)
Pretoria workshop: Sunday 24 May, 10am - 1pm, at Eat@Essence, 616 Spesbona Drive, Moreleta Lifestyle Centre, Moreleta Park
Pretoria workshop: Sunday 24 May, 2pm - 5pm, at Eat@Essence, 616 Spesbona Drive, Moreleta Lifestyle Centre, Moreleta Park
Email info@bottlecraft.co.za for more information and to request a booking form.


Stellenbosch Fresh Goods Market (Western Cape)
Buy natural, organic and handcrafted food products at this Slow Food market (as opposed to "fast food"), held every Saturday morning. Some of the products on offer are fresh spices, slow-roasted coffee beans, fresh handmade pasta, olive oils, fine patisserie and organic meat. There's much, much more though - take a look at their website for a more comprehensive list.
Upcoming dates: Saturday 16, 23 and 30 May
Trading hours: 9am - 2pm
Venue: Bosman's Crossing on the outskirts of Stellenbosch
Click here for more information and to get directions to Bosman's Crossing.


Country Craft Market (Western Cape)
This is the last market in Somerset West before the winter recess, so don't miss it! There will be two demos this time around: firstly, Karen Costigan of All African Mosaics will demonstrating her mosaic techniques and ideas, and then Laurette van der Merwe will be doing a teabag-folding demo (read all about it above, if you haven't already).
Date: Saturday 30 May
Venue: Southey's Vines, 186 Main Road, Somerset West
Trading hours: 9am - 2pm

The Teddy Bear and Doll Collectors' Fair (Gauteng)
One of the most popular shows of its kind in Southern Africa, the Fair attracts exhibitors from all over the country and is a must for the hobby enthusiast and collector. Exhibits include antique and modern limited edition dolls, vintage toys, a wide range of doll and bear making supplies, doll's house miniatures and much, much more. Visitors can also take part in free craft and teddy bear workshops.
Date: Saturday 30 May
Venue: Edenvale Community Centre
Trading hours: 9.30am - 1pm
Contact: Victoria on 011 828 7901
-----------------------------------------------------------------
Can you help?
Merle makes soft toys and would like to expand her collection of patterns. If you have any soft toy patterns that you no longer need, she will purchase them from you; just send us your details and we'll put you in touch with her.

Lolly would like to find beading classes or workshops in or near the Midrand/Kyalami area in Johannesburg. If you are a teacher in this area, or know of one, please let us know!
If you can help with either of these requests, please email us at info@redballoon.co.za, and we will pass the information on. You can send any requests of your own to the same email address.
-----------------------------------------------------------------
On the bookshelf
A Perfect World in Ribbon Embroidery by Di van Niekerk
A Perfect World is a rich, sumptuous celebration of the beauty of the natural world. The design, painted in watercolour by South African artist Verde, consists of 17 panels containing a total of 60 elements. Each element is presented individually, along with a list of its required materials, making it really simple to utilise a single element on its own in another craft project such as scrapbooking or knitting.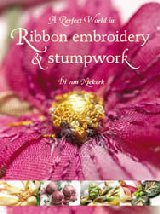 A feature of the book that I find very appealing is that each element is given with both its Latin and common names - education through craft!
A Perfect World features a full-colour double-page spread of the completed design, the original watercolour design for copying onto fabric, and a line drawing version of the design for those who'd prefer to choose their own colours and background; there is also a comprehensive (and easy to follow!) stitch gallery.
The book is suitable for both beginners and experienced embroiderers, and is also available in Afrikaans as 'n Wonderwereld vir lintborduur en stumpwerk.
And the best part? It's on special for just R140 at Kalahari.net. You can get the Afrikaans version here (also R140).
Find more book reviews in the Craft Compendium.
-----------------------------------------------------------------
Opportunities for crafters
Get more info on these and other places to sell your crafts, in the Craft Outlets section of the Red Balloon Craft Junction.
Craft X-Po Bellville (Western Cape)
Dates: 22 October - 7 November 2009
Venue: NG Kerk Bellville-Wes, 8th Avenue, Boston
Cost: R380 for a full table (170 x 80cm) or R200 for a half-table (80 x 80cm)
Application closing date: 21 May
Get more information and download the application form here.

Shekinah Arts and Crafts (Western Cape)
Address: Shop U93 Cape Gate Regional Centre, cnr De Bron and Okavango Roads, Brackenfell (first shop at the Woolworths entrance)
Trading hours: 9am - 8pm Monday to Saturday, 9am - 5pm Sunday
Click here for more information.