Love to create? So do we!
This month, our newsletter is focused on a special crafting event taking place in Cape Town at the end of March, called Love2Create. You can read all about it in the article below, and one lucky reader will win a spot at the event in this month's competition.
But if you're not in Cape Town, don't worry, we have plenty in the Gazette for you too, including a round-up of events taking place this month, and a review of a not-so-new-but-oh-so-good craft book.
All warm and fuzzy
There's nothing quite like the warm and fuzzy feeling you get when you know that someone somewhere misses you. So thank you for all the emails you've sent us about the Craft Gazette – it's rewarding to know that the effort we put into producing each edition makes a difference in the lives of so many people!
August Sun Projects, the company that runs the Red Balloon Craft Junction, has had another crazy start to the year – so crazy in fact, that we've now expanded our team to six people (just over a year ago there were only two of us).
With more hands on deck, and our super-organised Guinivea running the publishing schedule, you can expect to receive the Craft Gazette like clockwork every month from now on.
Advertise with us
If you have a craft event or product you'd like to advertise in the Craft Gazette, please get in touch with Guinivea at info@redballoon.co.za to find out about the options we can offer you.
-----------------------------------------------------------------
Prepare for a weekend of crafting fun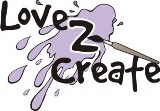 The last Love to Create crafting expo was such a big hit that it's back by popular demand. On the weekend of 25 March, Love to Create will offer two days of creative fun and crafty shopping in Bellville, just north of Cape Town. What a perfect way to spend quality time with your family and friends, while doing something you can all enjoy.
With an exciting selection of 25 workshops, ranging from basket weaving to cupcake icing, there truly is something for everyone. You'll be able to choose five 80-minute workshops per day. And you'll be able to take your creation home with you.
Workshops are run by experienced teachers, who will also provide the tools, materials and instructions needed to complete your craft. Complimentary lunch and teatime refreshments will be provided, as well as a goodie bag to dip into between your craft sessions. There will also be a lucky draw for prizes valued at a whopping R4,000!
Prices
The all-inclusive cost is R495 per person, per day, with a special price of R891 for those attending on both days. All you need to do is register and pay at Itz van Allez. If you're an early bird you'll also get first choice on the sessions you and your friends would like to attend.
More information
Workshops will run on the 25th and 26th of March from 8:15 until 17:10. Registration will be at 7:15 each day. For more information, contact Itz van Allez on 021 911 0962 or 082 452 4524. Alternatively, send an email to surika@mweb.co.za.
-----------------------------------------------------------------
Win with Red Balloon
We're giving away one full day's pass to the Love2Create Craft Convention, courtesy of Itz van Allez. This prize includes 5 craft workshops, a goodie bag, lunch and refreshments - and you can choose which day you wish to attend.
Don't miss your chance at this amazing prize. Enter now!
Competition closes on 18 March 2011.
-----------------------------------------------------------------
What's on
Get more info on these and other events on the Red Balloon Events Calendar.
The River Deck Organic Crafters Market (Gauteng)
This market is surprisingly different and offers you a wide variety of crafty goods to purchase.
Date: 27 March 2011
Venue: 35 Peter Road, Ruimsig
Time: 9am – 1pm
Contact: Naomi on 082 330 2106
Find out more


Irene Market (Gauteng)
Situated in beautiful Irene, only 40km north of Johannesburg, this is the perfect place to do your shopping away from the noise of the city.
Date: 26 March 2011
Venue: Smuts House Museum, Jan Smuts Ave, Irene
Time: 9am – 2pm
Contact: 012 667 1659 or email irenemkt@mweb.co.za


Walkerville Farmers' Market (Gauteng)
This market promotes green living, handmade local crafts and fresh produce. Bring the children as there are pony rides and a jungle-gym.
Dates: Every Saturday
Venue: 112 Main Street,Walkerville (on the R82 between Southgate & Vereeniging, just off the 4-way stop in Walkerville)
Time: 9am – 3pm
Contact: Gail on 011 949 4266
Find out more

-----------------------------------------------------------------
On the bookshelf
Easy Pewter Projects by Sandy Griffiths
Reviewed by Kerry-Anne Gilowey
Each time a new Metz Press title lands on my desk, I know I'm in for a visual and creative treat. This time proved to be no different.
I must admit that I had some rather unflattering preconceived ideas about pewter craft, based largely on the same-old-same-old work I've seen in magazines and at a few craft markets recently. Well, Sandy Griffiths has very kindly put an end to my negativity, by bringing together a stunning selection of designs in her new book, from an exquisitely-patterned book cover (my personal favourite) to colourful Christmas decorations, and even pewter-covered candles (yes, you can put pewter onto candles!).
This book is well-suited to beginners (although there's plenty here for those who've already tried the craft as well), as Sandy gives clear instructions on what is required and how to get started. All the relevant materials and equipment are described and explained, and illustrated in clear photographs. The reader is then led through 3 beginner projects, to get acquainted with pewter-crafting techniques such as low-relief and high-relief modelling and applying patina.
The other projects in the book are used to teach accompanying techniques, such as adding decorative borders and edging, or making use of colour. Projects include light-switch covers, photograph frames, a tissue box and mirror set, an ornate antique clock, and even an artistic nude!
The book is packed with useful tips and ideas direct from Sandy's very creative mind, which gives it a very relaxed conversational feel - a lot like being in a class, really.
Get more info on this title here.
Find more book reviews in the Craft Compendium.
-----------------------------------------------------------------
Opportunities for crafters
Get more info on places to sell your crafts, in the Craft Outlets section of the Red Balloon Craft Junction.
CY Market
If you are a crafter in Cape Town who is looking for a beautiful market at which to sell your goods, this is the place! CY Market has a retro/French ambience, and they are looking for crafters with simple items that speak of accessibility, functionality and beauty.
Dates: 28 September - 2 October 2011
Application closing date: 4 April 2011
Venue: Alba Guest Farm, Durbanville, Vissershok Road
Contact: 083 234 8606 or email cymarket@vodamail.co.za
Apply now.

That's all for this edition. Why not make the most of these last warm days by heading out to a craft market this weekend? Check out the Red Balloon Events Calendar to see what's on in your area.

Till next month,
Kerry-Anne