Glass Art
Classes & Materials
DR Art Glass Studio
Western Cape -
4 Albert Street, Wellington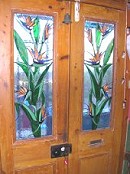 Classes
Danie offers classes from beginner to master artisan level. Beginner classes cost R250 and include the use of all tools, equipment and material from the studio.
Beginner classes deal with pattern design, glass information, cutting, grinding, foiling, soldering, finishing off as well as health and safety considerations.
The class duration is anything between 4 and 10 hours, depending on the student's progress. On completion of the beginner class, students will have been properly introduced to the art and will have completed their first stained glass artwork - normally a suncatcher or similar object (which can be taken home).
Information on the subsequent advanced classes can be viewed on DR Art Class Studio's own web site along with a comprehensive list of requirements and options.